Health and well-being are important factors in our daily lives.  After the effects of a global pandemic, lockdown and then a return to the classroom, we have embarked upon a journey to purpose train a HOPE dog who will work at the school.  Our HOPE dog will act as a wellbeing dog working in several spaces across the College.
The HOPE Dog Initiative:
The aim of the project is to improve wellbeing for students. This will be achieved through improving socializing skills and self-awareness skills that are a part of the Social and Emotional Learning (SEL) competencies.

These competencies are linked to Victorian curriculum standards, and it is expected that all teachers cover these learning outcomes and are able to assess them, as per expectations related to the entire Victorian Curriculum.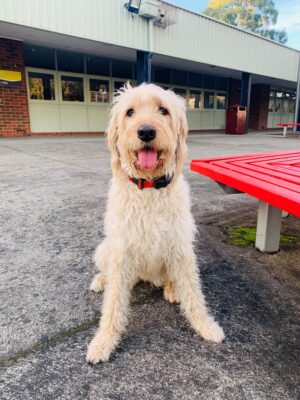 Three areas will be the target group for this project and as the action progresses, it will be implemented more broadly across the school.
Well-being

Integration

Study areas
The objectives of this project are to improve teaching and learning practices related to SEL competencies and to gather evidence to show improvement in student outcomes within a particular cohort of the school.
Frances is a labradoodle, a cross breed between a Labrador and a Standard Poodle.  She will grow pretty big, and her fur will be woolly but will not shed very much.  She was born in Ballarat and arrived at school when about 10 weeks old.  There are a few protocols that everyone needs to follow to allow Frances to be the best well-being dog she can be.