Student Leadership at Heathmont College
Welcome to Heathmont College, where every student is empowered to become a leader! Our Student Leadership program is designed to cultivate leadership skills, foster personal growth, provide opportunities for students to make a positive impact on our school community and beyond as well as
embody our college values of Compassion, Curiosity and Community.

Here's everything you need to know about our program:

All students have the opportunity to actively engage in student leadership through the Student Representative Council (SRC). The SRC comprises Year 12 Captains and Year Level Captains for each house. The development of personal leadership skills is vital for future success in life and so at Heathmont College, Leadership is for all – not just for a select few. With a focus on student voice, students are encouraged to have input into programs and decisions.
Leadership Opportunities and How to Join:
At Heathmont College we believe that when given the opportunity, students can develop skills in leadership to advocate for themselves, others and to learn from one another. Students build their confidence to be autonomous in their learning and their environment. We encourage students to communicate ideas and opinions, collaborate and contribute to decision making processes, and believe in their power to influence change. We upskill students in their capacity to be leaders through collaboration with their peers, staff and the wider school community. They attend a wide range of events representing the school that are both internal and external, including our open day and school tours.
If you're interested in becoming a Student Leader, keep an eye out for announcements and application details at the beginning of each school year. Don't hesitate to ask your teachers, peers, or school staff for more information on how to join the program. All students have the chance to be part of our Student Leadership Program. Whether you're a Year 7 newcomer or an older student, you can apply or be nominated by your peers, staff or even self-nominate. (For year 7 ambassador program, the application happens on camp).
Duration and Year Levels:
The Student Leadership Program spans across multiple year levels and positions, ensuring that every student has the chance to lead and contribute. Opportunities are available for:
Year 7-12: Student Voice Team / Heathmont Talks – Collaborate on school-wide decisions and drive meaningful change. – Runs every second week, and students can opt into this.
Year 7: Student Ambassador Program – Develop transferable skills and represent the school in various events. – Runs for a year.
Year 8-11: House Captains – Lead your house community, organise events, and inspire unity. – Runs for a year.
Year 12: Senior School Leadership Team – Take on impactful roles, lead campaigns, and drive positive change. – Runs for a year.
Year 9: School for Student Leadership – Participate in a unique 9-week residential leadership education program. – Runs for a term.
Year 12: National Young Leaders Conference – Attend a national event to develop your leadership potential. – Runs for a day.
Year 10: Maroondah Student Wellbeing Action Teams (SWAT) – Engage in wellbeing-focused workshops and projects.
Year 7-10: Leadership Camp at Rubicon Outdoor School – Develop leadership skills in an outdoor setting. Runs for a week.
Year 7-12: Maroondah Student Voice Forum. – Runs for a day.
Senior School Leadership Team
The school relies on our Senior Leaders' energy, leadership skills and activism to lead campaigns to assist various communities, to raise awareness of social and environmental issues, and drive the philanthropic projects across the school. The Senior Student Leadership team aims to build a positive school climate for learning and wellbeing through practices and relationships based on high expectation, shared values and a culture of trust. The structure of the team has recently changed to include elected School Captains, Vice Captains and College Prefects.
School Captains 
The School Captain's role aims to contribute to the development of a positive climate for learning. Their work specifically focuses on boosting student voice in and outside of the classrooms across all year levels. They facilitate the Student Voice Team (SVT) by surveying the cohort when required. They represent the SVT at staff meetings and curriculum meetings when appropriate, to elevate student feedback. School Captains conduct whole school assemblies and assist and represent their school at college-wide events and in the community where required.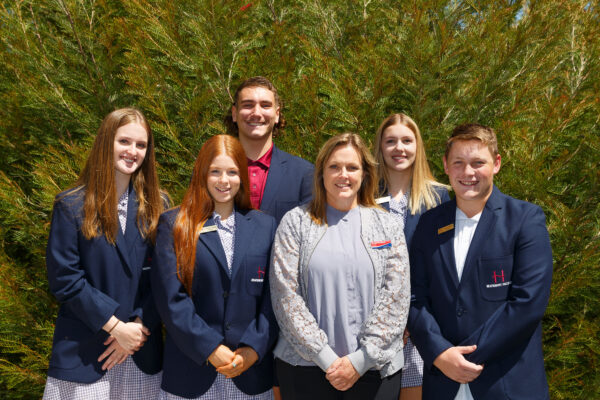 Our 2023 School Captains:
Molly Rist
Lachlan Clarke
Vice Captains
Three vice captains are appointed to drive portfolios in line with each of the college values of Curiosity, Compassion and Community.
Curiosity Vice Captain: Their role is to encourage everyone within the Heathmont community to have a desire for learning and inspire feelings of hope and positivity. Their role is to encourage celebration of growth in the community.
Compassion Vice Captain: Their role aims to respectfully celebrate the differences of all members of the community. They bring awareness and response to the mental health of our community, encouraging resilience to achieve together. This role works with the wellbeing and inclusion staff teams to continue developing a caring and inclusive community, assisting with the organisation of whole school events celebrating our diverse community.
Community Vice Captain: Their role aims to contribute to building a strong community network throughout the college through positive connections. They aim to work collaboratively to maintain a safe space where all students feel comfortable and a sense of belonging.
Our 2023 Vice Captains are:
Community – Jessica Leb
Compassion – Marlon Arndt
Curiosity – Claire Johnson
College Prefects
These students drive school improvement in an area that they're passionate about. The current College Prefects lead in the performing arts and communications areas. Both working with staff coordinators to align their work with the school's Annual Implementation Plan.
Our College Prefects are:
Performing Arts – Charlie Knutsen
Communications – Jascha Kahrau
House Captains
Students in years 8 to 11 self-nominate for the House Captain elections each year. The role of the House Captain is to be enthusiastic for creating change in the school community and being a voice for the students at Heathmont College. These students lead by example using the school values to bring the community together, showing compassion to those in need, and sparking curiosity within the student body. Our House Captains have courage to learn and lift our school spirt.
Expected duties:
Lead house assemblies
Represent the house in events such as sports days and fundraising activities
Communicate with house staff on activities held
Organise activities that inspire house spirit
Contribute ideas about how the house could be improved
Be an active member of the SRC, and attend meetings on a regular basis.
Our 2023 House Captains are:
Monash House – Patrick Rees, Mackenzie Phillips and Stephanie Morgans
Flynn House– Oli Alway, Darcey Cook and Claire Puckering
Gilmore House– Abby Bricknell, Evie Taylor and Patrick Knight
Hollows House– Lewi Wall, Amy Johnson and Maddison Butler
Student Voice Team:
Students from Year 7-12 get the opportunity to join the school Captains as part of a Student Voice Team throughout the year. We actively elevate students to be part of whole school decision-making, as the entirely youth-led team critically interrogates a specific focus, allowing students with a passion for certain areas to support the student body to drive change. To be considered for a Student Voice Team, students may be nominated by staff, their peers or self-nominate.
Student Ambassador Program
The Student Ambassador Program is comprised of self- or school-nominated Year 7 students. The program is designed to build student agency and provides students with the opportunity to develop transferable skills such as leadership, teamwork, and communication with partnered schools in the Maroondah Network.
Expected duties:
Assist with College Tours, front of house performances, Open Night, charity initiatives and other functions.
Our 2023 Ambassadors are:
Abby Tormay
Tilli Mackay
Penny Kortholt
Jasmine Connell
Alice Ducat
Allan Trau
Ruthvika Pathipati
Jacob Morrison-Broughan
Willow Holy
Tahnee Miller
Tyler Volpe
Griffin Hamilton
Tyler Mcintosh
Leadership Conferences and Programs
School Improvement Team:
The Senior Student Leadership Team at Heathmont College contribute to school improvement. The students form an integral part of the School Improvement (SIT) team, as they undertake the crucial role of developing, overseeing, and evaluating the effectiveness and impact of the Annual Improvement (AIP) on a monthly basis. Students apply this learning to issues directly affecting them and their learning. The SIT consists of students, the principal and members of the Leadership team as required.
Students School Council Member:
The roll of a Student School Council member is to promote the interests of students among the college administration, staff and parents. They identify and help solve problems encountered by students in the college and consult students on any issue of importance.
School for Student Leadership:
The School for Student Leadership offers a 9-week residential education for Year 9 Government school students, bringing them together from all walks of life, for an outdoor-focused leadership education program. Forty-five students from different schools are given access to amazing outdoor education opportunities like canoeing on the Yarra River, mountain bike riding on local trails and adventure camping and hiking in the Yarra Ranges National Park. While living on campus, students undertake a specialist leadership curriculum focused on personal and team development, communications skills, ICT use, community living, outdoor and adventure education and a community learning project to benefit their home community upon return.
National Young Leaders Conference:
Our Senior Student Leadership team attend the National Young Leaders Day. Over 23,000 students along with their teachers/principals attend this event around Australia annually. This brings together students who possess leadership potential and have been recently appointed to leadership positions such as SRC members, Prefects, and School Captains. The program is designed to benefit any student who shows an interest in developing their leadership potential.
Maroondah Student Wellbeing Action Teams (SWAT):
Every year Heathmont College is invited to participate in a 6-month immersive program. A select number of Year 10 students from the Maroondah school network engage in workshops to build student skills to be champions of change and raise their wellbeing and the wellbeing of others. Students will attend a range of events such as workshops, project work, a two-day camp and presentation evening.
Leadership Camp at Rubicon Outdoor School:
Heathmont College offers students in years 7 to 10 the opportunity to be nominated by a staff member for having shown leadership potential in or outside the classroom. A selection of 60 students attends the camp to bring cross-year level students together outside of the College to foster accelerated growth and individuals to be champions of change.
The camp activities are catered towards developing students' personal and social capabilities as they are faced with challenges of resilience, decision making, adaptability and self-reflection. Throughout the camp all students have the opportunity to lead their groups, developing their collaboration skills as they explore a variety of team roles and responsibilities.
Each student identifies a content descriptor from the Personal and Social Capabilities curriculum links they would individually like to develop across the camp, with like-minded students placed in groups. Each group's itinerary will differ slightly depending on the group's common goals. Some activities may include Hiking, bike riding, kayaking, fire building, orienteering and more. Wellbeing sessions are also facilitated to encourage self-reflection and understanding of one's character strengths.
Further opportunities to lead include:
SWAT Team with Maroondah City Council
The Alpine School
World Challenge
Student Awards
At Heathmont College we recognise and celebrate student achievements.
Throughout the year assemblies are regularly held to recognise students for Academic, Sports and Community Achievement. In term 4 our College hosts the Valedictory Dinner where the Valedictorian award is presented and the College Presentation Evening where we formally recognise our students who have achieved highly in the academic year.
Community Scholarship 
Our students are given the chance to explore opportunities beyond the College. There are many community programs, grants and scholarships available to young people including:
John Carbery Memorial Sports Award
Deakin Student Award
Australian Defense Force Awards
RSL Achievement Awards
Kwong Lee Dow Young Scholars Program