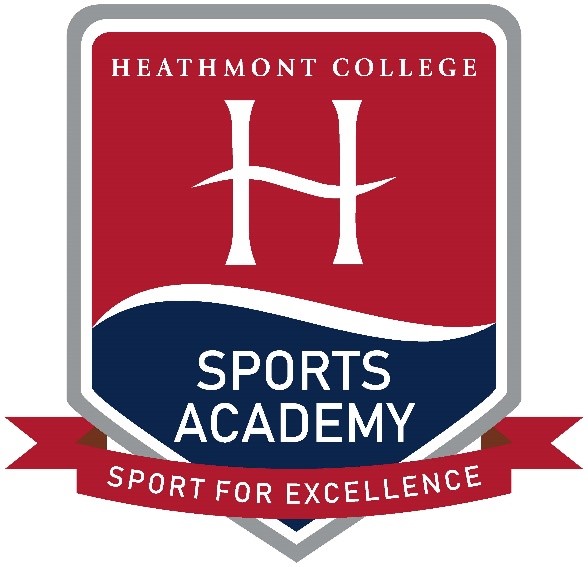 The Heathmont College Sports Academy has been established to enhance students Sporting, Academic and Vocational opportunities through a holistic sporting approach. Encouraging students to be engaged in a program that aims to help them reach their potential in all areas of life.
The aim of Heathmont College Sports Academy is to:
Offer a student-athlete friendly environment, welcoming students of all abilities who have a hunger to get better.
Further develop the athlete's knowledge through a holistic sporting approach including academic curriculum, health and wellbeing, performance analysis, fitness testing, sports psychology, game sense education and many more.
Deliver an opportunity to extend their sporting talents via a detailed, supportive and flexible sports academy curriculum that covers enhancement opportunities, match-play, strength and conditioning education, high-performance training, nutrition and recovery education.
Provide professionally accredited coaches that oversee each academy program and facilitate team and individual feedback through the standard academy structure and term-based progress meetings.
Expose athlete to competition opportunities through school sport, interschool sport and other sporting academies.
Training opportunities both at school and in the wider community.
Fully tailored strength and conditioning program for each student that is reviewed as needed.
Support students in future career planning, development and aspirations through numerous strands including sporting pathways.
Mentor student-athletes through all experiences at Heathmont College (Holistic approach)
Sports Academy Facilities
| | | | |
| --- | --- | --- | --- |
| Heathmont College Sports Centre | Indoor Cardio Gym | Oval connecting to sport centres | Outdoor Tennis/Netball Courts |
| Commercial Grade Gym | Hope Centre for Academia and education presentations | Gym Equipment | Indoor Competiton grade Basketball Court |
Programs Offered
| | | |
| --- | --- | --- |
| AFL / AFLW | Basketball | Gifted Athlete* |
*Gifted Athlete – Netball, Soccer, Cricket, Athletics, Tennis and many more.
This Gifted Athlete program will focus on providing a strength & conditioning, cardio and recovery program tailored to the student-athletes identified sport. Also providing students the opportunity to cross learn through other sports.
Coaches
DENNIS ARMFIELD – Sports Academy Director & Head AFL Coach

Playing Career

Coaching  and Development

10-year, 145 game AFL Career at Carlton Football Club

2 x Best Clubman, Spirit of Carlton Award Recipient

2015 Brownlow Medal Jim Stynes Award for outstanding leadership within the community.

2016 Carlton FC Life Membership

2017 Leadership Group

Assistant Coach of the Inaugural Carlton AFLW team (2016-2017)

Assistant Coach of the Canadian AFL at the International Cup (2017)

AFL Level 2 Coaching Accreditation (2017)

Head Coach of AFL Women's Academy (2017-2020)

Senior Assistant Coach North Melbourne AFLW (2018-2019)

Senior Club Coach Park Orchards Football Netball Club (2018-present)

AFL Level 3 Coaching Accreditation (2021)

I am a passionate changemaker, with a vision to see all Student-Athletes thrive in all areas of their lives. I have a strong desire for helping others with enthusiasm, positive energy, and loyalty. Through Heathmont College Sports Academy I will continue to be a great leader, a role model, a motivator, a mentor and inspire, drive, and guide all student-athletes to be the best they can possibly be, not only in the sporting arena but academically and vocationally. We have a holistic approach.

 

BRIAN VAUGHNS –Head of Athlete Development & Mentoring and Head Basketball Coach

Playing Career
Coaching and Development

15-year Career

Drafted by the Milwaukee Bucks (NBA)

Played professionally in Germany, Greece, Australia, Mexico, Argentina, Switzerland

Started the Maribyrnong Sports Academy Basketball Program:

providing 45 US College pathways for student-athletes, 35 State Team Representatives and 10 National Team Representatives. (13 years)

Head Program Basketball Coach at St. Michael's Grammar (10 years)

Head Senior Women's Coach at Hume City (2 years) – Big V Coach of the Year 2012

Head Senior Women's Coach at Camberwell (3 years) – Big V Coach of the Year 2014

Head Senior Men's Coach at Whittlesea (3 years) Big V

Director of Coaching at Doncaster Basketball Club (3 years)

I have been involved in basketball for close to 40 years at the elite level of playing and coaching. My goal is to help every athlete achieve a level of success through understanding self-discipline and self-evaluation.




My philosophy is "Athlete First and Winning Second". Winning is the application of skills learned and I am dedicated to helping athletes learn and master the skills required to compete at elite levels, but more importantly help athletes define their abilities to become successful in life and sport.As a professional athlete I have had the opportunity to understand the different facets of basketball from various countries around the world which has helped to grow my knowledge of the sport from both the USA and FIBA rules. Allowing me to help all players that I teach, coach and guide throughout the Sports Academy program.

ELISE HOPKINS – Developer of Heathmont College Sports Academy & Gifted Athlete Coach

Playing Career
Coaching and Development

2-year Victorian Football Federation State Player

20-year tennis playing career (Division 1, 4-time club champion, 8 x premiership wins)

4-year AFL community league player

Head Swimming Squad Coach- 2012

Bachelor of Applied Science (Physical Education)- 2013

Strength and Conditioning (Level 1)-2013

AFL community girl's coach- 2015

Assistant AFL community woman's coach- 2017

Surf Life Saving Community Certificate- 2021

I am an avid coach who instils perseverance and dedication within my students. I seek to improve my athletes based on their individual needs through targeted training and program development. I pride myself on building my athletes knowledge about training right and understanding the different facets to train the athlete from a holistic perspective.




I'm passionate in motivating my students to reach their goals and inspire them to be the best they can be as a student-athlete at HCSA.

MEG DARGAN – Supervisor & Implementation Coordinator and Coach

 

Playing Career




Coaching and Development




 

10-year playing career – BigV Senior State

Championship and Division 1 competition (Warrandyte Venom)

Division 1 Championship Captain (2013 – Warrandyte Venom)

3x Senior Women MVP (Warrandyte Venom)

Golden Hands BigV Award Winner (2012)

Women's VAFA AFL Women's Competition (current)


Bachelor Degree – Exercise and Health Science

Masters of Teaching (Physical Education/Health)

Level 2 Basketball Coach (Basketball Victoria)

Basketball Referee (Basketball Victoria)

Eastern Independent Schools of Melbourne

Basketball Coach (Aquinas College – 2012)

Aussie Hoops Junior Coach (Warrandyte Venom/Redbacks)


I am a strong advocate for participation in sport and believe that persistence and hard work will equate to success, both in sport and academically. I have a true passion for providing opportunities for student-athletes to flourish and grow as individuals, whilst keeping a keen focus on promoting teamwork, equality, and respect for everyone. I hope to share my passion for sport to inspire our athletes of Heathmont College Sports Academy to strive for excellence in all that they do.
Sports Academy (Year 7-10) Proposed Structure for 2022
| | | | | | |
| --- | --- | --- | --- | --- | --- |
|   | Monday | Tuesday | Wednesday | Thursday | Friday |
| Morning | Rehab & Recovery | Training Session | | Training Academy | Education and Competitions |
|   | 8:30am -10:00am | 8:30am -10:00am | | 8:30am -10:00am | 8:30am -10:00am |
| Afternoon | | Strength & Conditioning – Proprio Individual Academic  | *Academy Academic Support | Strength & Conditioning – Proprio Individual Academic | |
|   | | 1:10pm – 2:00pm | 1:10pm – 2:00pm | 1:10pm -2:00pm | |
Senior Program (Year 11-12) Proposed Structure for 2022
| | | | | |
| --- | --- | --- | --- | --- |
|   | Monday | Tuesday | Thursday | Friday |
| Morning | | Strength & Conditioning – Proprio Individual Academic | Strength & Conditioning – Proprio Individual Academic | Sport & Fitness |
|   | | 7:30am -8:30am | 7:30am -8:30am | 10:00am -11:00am |
| Afternoon | Sport & Fitness (VCE / VCAL)  | | | |
|   | 1:10pm -2:00pm | | | |
Sports Academy sessions include:
Elite Coaching – Large Groups, Teams, Individuals
Technical Skill development
Tactical Skill development
Health, Wellbeing & Mentoring sessions
Competitions/Inter-academy competitions
Fitness testing, Data Analysis & Video Analysis
Peer Analysis and Assessment
Leadership & Personal Development
Rehab & Recovery
Academic Support
At Heathmont College, we value the importance of education. Importantly, Heathmont College Sports Academy will offer ongoing support to all student-athletes to help balance their demanding schedules. This will be arranged through term-based progress meetings and weekly academic support classes that are offered to all academy students.
*Weekly academic support classes must be attended by those students who have failed to hand in work on time to a satisfactory standard.
'Want to know more? Have a 'Coach Conversation'
Use this form to request additional information from a Heathmont College Sports Academy Coach  or contact Dennis at Dennis.Armfield@education.vic.gov.au
Coach Conversation
Use this form to request additional information from a Heathmont College Sports Academy Coach.
Are you interested? Start the Application Process Below
If applying through the Grade 6 to Year 7 Transition process please place Heathmont College as your 1st preference on your Transition Placement Form.
If you are currently enrolled in a secondary school or study centre you will also need to complete the Application for Enrolment found on our website under Enrolments / Application for Enrolment. Based upon your application you may be interviewed by an Assistant Principal and Director of Sports Academy for enrolment.
Please complete the following form to apply to the Heathmont College Sports Academy.
IMPORTANT:
It is important when looking to apply to Heathmont College Sports Academy, you choose Heathmont College as your preferred school. Once enrolled with Heathmont College, we will then process your enrolment in Sports Academy.. If accepted, this means you have a position in the academy for that calendar year. You do not automatically get accepted the following year. Student-Athletes are required to maintain a minimum behaviour and academic standard, as well as abide by all terms and conditions set out in the 'Student-Athlete Agreement' that is signed at the commencement of each year. Students who fail to meet these standards or fail to uphold the agreement, may have academy sessions taken away from them or even worse, will forfeit their position in the Academy when deemed by the Director, selection panel and Heathmont College. NO REFUNDS will be given to students who forfeit their position. A yearly review/application process will be undertaken throughout the year as to whether your child will receive placement the following year.
 Dennis Armfield,Brian Vaughns, Elise Hopkins, Meg Dargan
Sports Academy Team